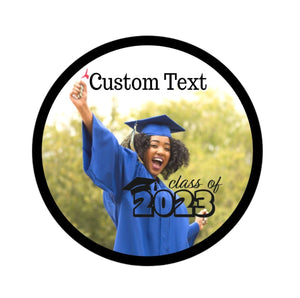 Graduation Button Pack
Introducing O'Buttonz - the company dedicated to creating custom pin buttons that help you celebrate life's biggest achievements in style. And for those college graduates out there, we have just what you need to mark this momentous occasion.
Our college graduation pin buttons come in two stunning variants - gloss and glitter. The gloss finish gives your pin a sleek and polished look, while the glitter option adds a touch of sparkle and pizzazz. No matter which variant you choose, you can be sure that your pin will be of the highest quality and crafted with care.
With O'Buttonz, you have the freedom to create a pin that perfectly captures your college experience. Perhaps you want to showcase your school's colors or include your major. Or maybe you want to feature a favorite quote or a symbol that holds special meaning for you. 
So, whether you're looking for a special keepsake to remember your college days by or a unique gift for a fellow graduate, O'Buttonz has got you covered. Order your custom pin buttons today and celebrate this incredible achievement in style!