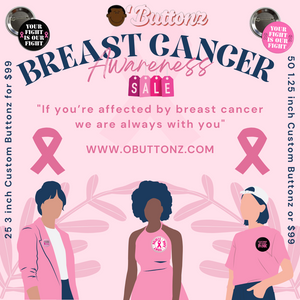 Breast Cancer Awareness Buttonz
🌸 Breast Cancer Awareness Pin Badge Button Sale - Limited Time Offer! 🌸
We are thrilled to announce a special online sale that allows you to get these custom pins at an incredible price.
🎗 Product Details 🎗
✨ Button Size Options:
25 1.25-inch buttons for $99.
50 3-inch buttons for $99.
🎀 Why Choose Our Pin Badge Buttons? 🎀
Quality & Durability
Eye-Catching Design
Easy to Wear
Marketing & Promotion: These custom promotional pins are great way to promote your business as well as helping and shining a light on a great cause!
Ideal as Gifts
🌟 Why Your Purchase Matters 🌟
With every pin badge button you buy, you are contributing to the fight against breast cancer. A portion of the proceeds from this sale will be donated to reputable breast cancer research and support organizations.
🌸 Thank you for joining us in raising awareness and showing your support for breast cancer survivors, fighters, and their families. 🌸